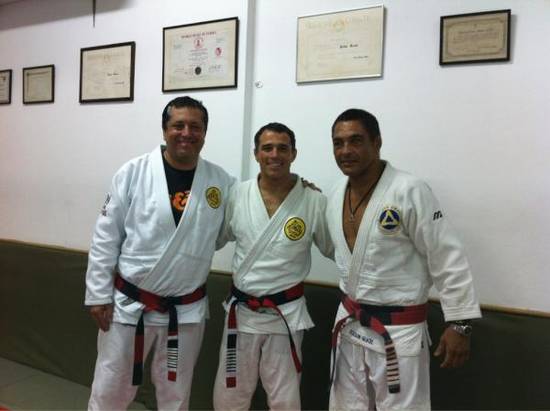 7th Degree Red & Black Belt, Master Royler Gracie will be visiting longtime Gracie Humaitá representative, Donald Park, at his BRAND NEW ACADEMY in Austin, TX for a 3-hour Gi seminar on SATURDAY, APRIL 7th at 11:30am. Pre-registration is mandatory and there are a handful of slots still available. Check out the details below to learn how to register, and check out the video message from Royler himself
VIDEO MESSAGE:


3 HOUR GI SEMINAR WITH MASTER ROYLER GRACIE @ THE NEW GRACIE HUMAITÁ AUSTIN ACADEMY
Gracie Humaitá Austin will once again be hosting MASTER ROYLER GRACIE for a seminar on SATURDAY, APRIL 7th (NEXT SATURDAY) at 11:30am.
Royler Gracie is a 7th degree Red & Black Belt and the son of the founder of

Gracie Jiu Jitsu

, the late Grandmaster Hélio Gracie. A 4-t

ime World Champion and 3-time Abu Dhabi Champion, Royler has been one of the most dominant and successful competitors in the world of BJJ. As a Pride and K-1 veteran, he has also tested his Jiu-Jitsu in the ring and the cage and is an example of the diverse applications of Jiu-Jitsu as a fighting art.
As the longtime head of the original Gracie Academy and the leader of the worldwide Gracie Humaitá team, Royler is the embodiment of the well-rounded Jiu-Jitsu developed by the Gracie family.
Royler will be here for a few days, teaching classes and will be teaching a 3 hour seminar that is open to ANYONE, from ANY academy.
:::::: SPOTS ARE LIMITED. ::::::
:::::: PRE-REGISTRATION IS MANDATORY. ::::::
:::::: NO WALK-INS WILL BE ALLOWED. :::::::
SPECIFIC DETAILS
WHEN: Saturday, April 7th, 2012
WHERE:
Gracie Humaitá Austin | 828 Airport Boulevard, Austin, TX 78702
PRICE: $100 | Pre-registration is MANDATORY (no walk-ins)
HOW TO REGISTER: Visit www.gracielegacy.com and click on the |BUY NOW| link on the right to visit the PayPal link.
PRIVATE LESSONS: Private lessons are available on FRIDAY, APRIL 6th. Email us at

INFO@GRACIELEGACY.COM

to schedule a 1-hour private session.
A Personal note
Dad Zo getting Kaleo ready for training BJJ
Kid wishes to send a Big Hello to my nephew and future World BJJ and Surf Champion Kaleo Relator for his achievements in surfing, BJJ and life. Besides being a great kid, Kaleo is also ripping in school, surfing and BJJ. Keep being good and see you soon!
Now go train Jiu-Jitsu,
Kid Peligro
Kid Peligro Iphone App: Secrets of the Closed Guard

Kid Peligro Iphone App: Portuguese for BJJ
www.kidpeligro.com
twitter.com/kidpeligro
facebook.com/Kid.PeligroBJJ
http://www.youtube.com/kidpeligrobjjnews
mailto:kidpeligro@gmail.com